The Fast Paced Disruptive Evolution In Publishing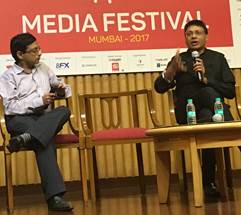 The Media Festival at Welingkar Institute of Management Development & Research, Mumbai—The August Fest was held on 19th August 2017. Vikas Gupta was among some of the most well-known speakers in the Media Industry that graced the stage. This was a first of its kind Indian Media festival where the best of the minds, from Television, FM, Print, New Media and Marketing Industries came together under one roof.

Vikas spoke about the disruptive evolution of the Publishing Industry and what are the implications of it towards both the content creators as well as consumers. Publishing has undergone a massive transformation, up until the year 2010, the biggest jump in the technology-driven transformation was Paper to Ebooks. Today, the creators and authors find innumerable mediums to push their content across to the content consumer. From audio and video to games and virtual reality, the platforms to distribute and engage with consumers are endless.
Reiterating the importance of disruptive models in publishing, he talked about Publishing 3.0—A paradigm shift that transforms business models and engagement methods. He noted that there are many ways in which Fiction Publishing can be disrupted. Crowdsourced writing and multiple endings are just a few of the examples. The content for learning processes can also be evolved. Technologies can be utilized in transforming Static and Linear Learning Content to Multiple Dynamic Content that is Collaborative, On Demand, Customized and Adaptive to an individual's need.

Vikas noted that every entrepreneur in Publishing Industry should confront the question of whether they are there to 'disrupt' or just copy older models. And also, in the process of Disruption, whether their model is complete in terms of Content Creation, Distribution, Engagement, and Monetization.