Wiley India and Indian School of Business organize book launch event for, 'Managing Marketing: An Applied Approach'
Wiley India, in collaboration with Indian School of Business (ISB) is organizing a book launch event for its global text book for Marketing Management, 'Managing Marketing: An Applied Approach', at ISB Campus, Hyderabad, on August 13, 2014.
Dr. Siddharth Shekhar Singh, Director Fellow Programme in Management & Associate Professor of Marketing, Indian School of Business and Prof. Noel Capon, R.C. Kopf Professor of International Marketing, Past Chair of the Marketing Division, Graduate School of Business, Columbia University, have collaborated to put together the cutting edge book. With its new age teaching resources, including The Marketing Toolkit, expert videos & audios, case studies, comprehensive assessment tools, etc., the book is an indispensable learning resource for students and a highly valuable reference for instructors.
Prof. Dipak C. Jain, The INSEAD Chaired Professor of Marketing, INSEAD Fontainebleau, France, Former Dean, INSEAD (France), Former Dean, Kellogg Graduate School of Management, Northwestern University (U.S.) would be the Guest of honor at the event.
Experienced faculty and researchers from leading management institutes, including ISB, Hyderabad campus would participate in the event.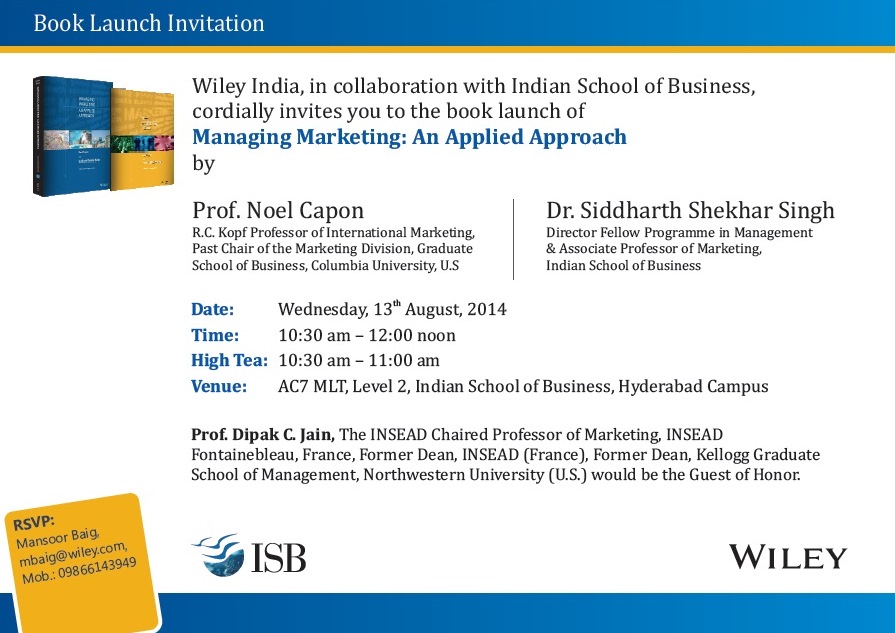 Click here to read more about the book